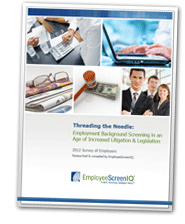 EmployeeScreenIQ recently released our annual background screening trends survey: "Threading The Needle: Employment Background Screening in an Age of Increased Litigation and Legislation." More than 650 HR professionals from across the country, in organizations large and small, shared their thoughtful (and sometimes surprising) insights on everything from falsified resumes to the phenomenon of Facebook in our revealing 20-page report.  Listed below is one of our Top Findings which deals with how much emphasis respondents place on choosing accredited background screening firms.
Accreditation of Screening Providers:
71% of respondents said it's important that their screening providers be accredited by the National Association of Professional Background Screeners (NAPBS). However, it seems that perception and reality are not one and the same regarding accreditation, as less than 2% of screening providers are accredited by the NAPBS.
It is possible that employers are confusing a background screener's involvement in this association with the actual accrediting process and program. If accreditation is indeed important to you (and it should be), do not assume that a provider is accredited because they are a member of NAPBS. You should inquire specifically about this special designation. Companies can search for accredited screening firms. Remember, you screen your job candidates and you should do the same with your screening providers.
NAPBS accreditation is far more than an ornamental distinction. In practical terms, it's an important "seal of approval" that ensures employers are working with providers whose procedures are compliant with industry expertise and best practices. Perhaps this finding signals a good opportunity for NAPBS to better communicate to employers the benefits of having their providers accredited.
More information about Accreditation can be found at http://www.employeescreen.com/accreditation.asp
And for those of you don't know, of course EmployeeScreenIQ is among the 2% of accredited firms. Sorry for the shameless plug. Had to be done:)